What is Ideal West Coast Swing Posture?  By Mandy Henderson
The Importance of Ideal West Coast Swing Posture
West Coast Swing posture, we all have aches and pains from everyday life. But when they start to hold us back in life and in our dance, how do change it?
Below, Mandy Henderson shares the importance of ideal West Coast Swing posture. And how small adjustments can not only relieve pain, but also improve your ability to move fluidly through your favourite dance steps too!
What is Ideal West Coast Swing Posture?
The definition of Posture is the position in which we hold our bodies in space when sitting, standing, lying down or moving around – aka "living"! Ideal posture is the position from which the musculoskeletal system will function most efficiently.
Our bodies are amazing machines – "the most masterful feat of mechanics, engineering and physics imaginable" says Rael Isacowitz, the author of "Pilates". Our bodies are also brilliant at adapting to our environment which means that our everyday posture has adapted to our everyday lifestyle of spending way too much time sitting and not moving or training enough to keep our "machines" in optimal condition. This has a knock-on effect of compromised posture as described below – i.e. an overall sense of having a functioning, but "wonky" machine!
When posture is optimal, the body is in a state of balance and requires minimal energy expenditure of the muscular system. The stress placed on the bones, disks, cartilage and other weight-bearing structures is also minimized. Quite simply, we move a whole lot better and our bodies will last a whole lot longer!
Compromised posture results in tension in the antigravity muscles, uneven stresses on the joint structures, less efficient movement and visual misalignment.
What does "Good Posture" look like?
From the front, standing with feet hip-width apart, we're looking for symmetry: shoulders and hips level with each other on both sides , the head is upright and in the centre, the feet are both facing forwards with both heels level with each other, the ankles are perpendicular to the floor, and the knees are above the ankles, facing forwards…
This diagram shows the ideal posture as well as the effects on the skeleton of misalignment.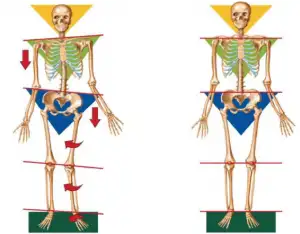 From the side, we're looking for an imaginary plumb-line, drawn from the ceiling to the ground which will connect the ear, the middle of the shoulder girdle, the side seam of the torso, the middle of the pelvis, the middle of the knee and fall just in front of the ankle bone.
This straight line shows the natural curves of the spine (at the neck, the ribcage, and lower back) and highlights compromised posture when those connecting points don't line up.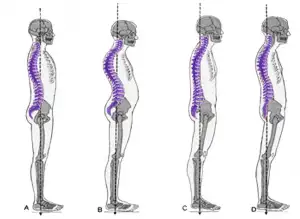 Posture is an important aspect of our general health and wellbeing which massively affects our everyday life and every movement within everyday life. All of this is magnified when we dance because our posture is constantly changing and adapting to every single step. If you focus on improving your posture, you will notice many benefits, some of which are…
Benefits
Less stress on your bones and joints = less aches and pains and injuries/niggles because you are positioned in good alignment. You will be fitter and able to dance for longer and not suffer the next day.
Less tension in the shoulders, neck and jaw, equals fewer headaches. Due to the head being held "on top" of the spine as opposed to a "forward head carriage" position. Less tension felt by your partner through your connection.
A strong and flexible spine means less back pain and better mobility for all movement patterns. This is because the muscles of the spine and torso/core are working in synergy. You will have more freedom in your spine and your movements in general.
Increased lung capacity and improved circulation and digestion in turn creates more energy. Holding yourself upright, making space for the lungs and internal organs to work efficiently. Dancers with better posture stand out from the crowd.
Better quality of movement makes for improved self-confidence and spatial awareness as you are more balanced and in control of your body. You will look and dance more like a professional dancer.
So why not try making a few little adjustments today? It's better for you and your dancing.
By Mandy Henderson 

Email Mandy at mandy.eszti@gmail.com 
Madys Youtube Channel – https://www.youtube.com/channel/UCDOf3pEO3oNg_JPMfPo19mg
Thanks for reading through this article, The Ideal West Coast Swing Posture.  For more articles from WCSWellness follow our Social Media and Join our mailing list. Feel free to reach out to us at our Contact page.